 Oh, Jamie Sale. Not Again.
Jamie Sale MAY have gotten worse over the weekend.
Last week the former ICON turned national embarrassment, fresh off sharing a fake Justin Trudeau tweet she still thinks is real.
This week, the FORMER Olympian announced Canada's PM will be charged with Crimes against humanity and treason according to the United States Penal codes, thanks to those mask/vaccine mandates being dropped (they were always going to be dropped).
Qanon shit right out of Crazytown.
Nice to see @JamieSale took the weekend to get it together. pic.twitter.com/ZiDM7ITokd

— Dean Blundell🇨🇦 (@ItsDeanBlundell) September 26, 2022
Jamie Sale is fucked.
She's spent the last two-years performance tweeting about things she knows nothing about, like dead athletes…
https://crier.co/news/weird-shit/canadian-zero-hero-jamie-sale-wasted-no-time-using-bryan-marchments-families-grief-to-spead-vaccine-hate/
Black swan events…
https://crier.co/sports/video-can-we-get-a-wellness-check-on-jamie-sale-2/
Jamie has lost everything and gets told daily that she shares memes and tweets that aren't real, but she can't stop. It's either because she's as dumb as Theo Fleury, or she's committed to her Qanon values and doesn't care.
Most people with a brain would switch gears when outed as a fraudulent laughingstock of pe-brained stupidity, but Jamie is unique. She thinks her Gold medal from Salt Lake (she bitched and moaned her way into that medal) gives her special powers and a medical degree, shielding her from the harsh realities of her bullshit life.
https://crier.co/news/jamie-sale-and-theo-fleury-should-just-move-into-the-woods-together-forever/
I thought last week's enormous boner would make her think about giving it up for an everyday life with real people doing ordinary things, but she's doubling down because nothing matters anymore.
Her kids don't matter.
Her family doesn't matter.
Her friends don't matter.
What matters? Finishing this Qanon shit strong, holding out hope she's right and MAYBE tasting spiritual victory. She's not intelligent enough to put her phone down, and the embarrassment of being wrong is death, so she's riding that wacky horse into Crazytown at Mach speed.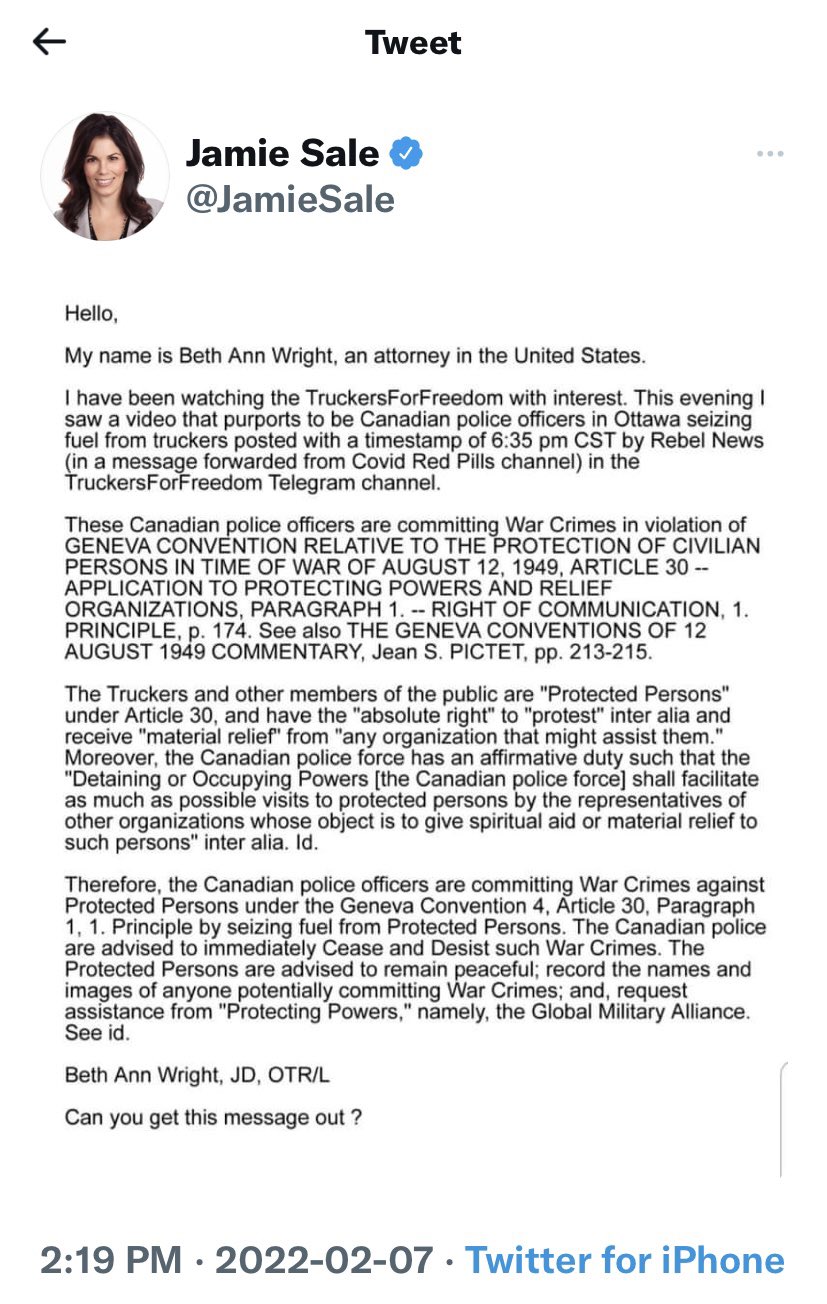 Oh, Jamie. You used to be something.
PS: I hope Jesus doesn't see this picture.
DB
Dean Blundell is a Canadian radio personality. Best known as a longtime morning host on CFNY-FM (The Edge) in Toronto, Ontario. In 2015 he was named the new morning host on sports radio station CJCL (Sportsnet 590 The Fan). Dean started his career in radio in 2001 and for nearly 20 years been entertaining the radio audience. Dean's newest venture is the launch of his site and podcast which is gaining tremendous momentum across North America.